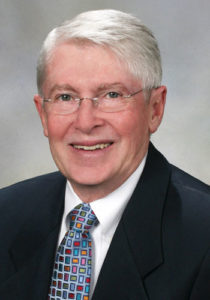 Michael Kinney is treasurer for the Duckworth for OPPD campaign, and is an experienced lawyer with a distinguished track record.  We are proud to have him on board with us.
Mike has resided in the SARPY/DOUGLAS COUNTY communities since 1971 and has worked at the same law firm, CASSEM, TIERNEY, ADAMS, GOTCH & DOUGLAS  in Omaha since 1971. He worked first as a trial attorney until 2014 at which time he retired from that position and commenced a full time mediation practice with the same firm.
Since 1971 he has always remained involved in the community both on a professional level and as a citizen. He served as president of the Omaha Bar Association (2003-2004) and president of the Nebraska State Bar Association (2009-2010). He likewise spent 11 years on two local public school boards. In addition, he currently serves on his church's finance committee and, in the past, has served as a member of the Eye Bank Board, the Bellevue Housing Authority, the Nebraska Board of Mental Health Practice, the Nebraska Accountability and Disclosure Commission, the Fontenelle Forest Association Board and the Lift Up Sarpy County Board.
He currently is a member of the three "invite only" organizations: the American College of Trial Lawyers, the International Academy of Trial Lawyers and the National Association of Distinguished Neutrals.